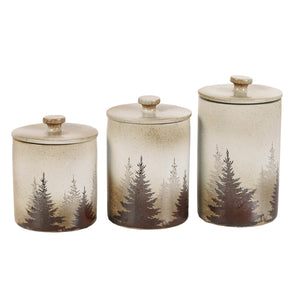 Rustic stoneware canisters decorated with dark winter pines. The rustic appearance of this collection is accented with flecks to highlight the evergreens and gives the pieces a handmade, pottery feel. The lids sit inside of the canister for a secure fit and a silicone gasket helps keep food fresher. Coordinating pieces available separately.
Measurement:
1 PC each of canisters in three graduated sizes that measure approximately:
Materials & Info:
Canister are dishwasher safe, for best results hand wash lids. Imported.
Shipping Info:
In Stock Product Ships Between 4-6 Business Days.