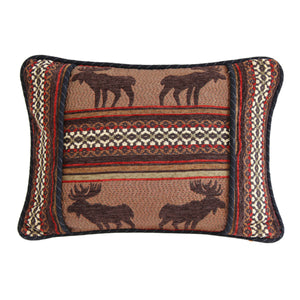 Whether displayed in the bedroom or family room, this Bayfield oblong moose pillow is the perfect accent for any lodge or cabin home! Soft chenille combined with rich earth tones feature roaming moose silhouettes and piping details. A wide variety of coordinating accessories are available sold separately. See Bayfield Coverlet Set for full collection.
Measurement:
16" X 21"
Materials & Info:
Shell: 100% Polyester. Filling: 100% Polyester. 
Hidden zipper closure. Imported.